JOIN TODAY!
Meet new people from all over the world, make friends, change your status, upload photos, earn points, & so much more! Chat, post comments or questions on our forum, or send private emails to your friends! There is so much to do and Learn here at World's Last Chance! Join our growing Christian Community Today and receive your Free Gift!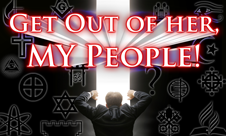 Store Categories
Yah's Love for Homosexuals Tract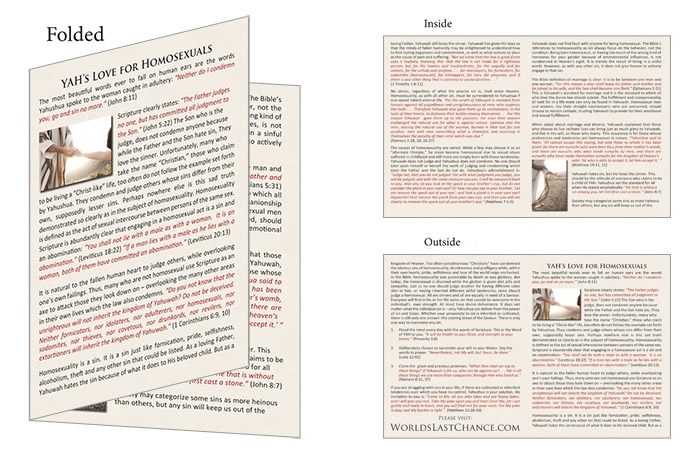 Tracts will be shipped in lots of 100* for 100 points.
Help to spread these truth-filled tracts like the leaves of autumn!
Folded Dimensions: 4.25" x 5.5" (10.8 cm x 14 cm)
*Note: Actual number of tracts may vary slightly from order to order.
Click here to view full article text.

To make your own tracts, you will need to print on the front and back of the same sheet of paper (page 1 on the front; page 2 on the back). Once you have done this, simply follow the guidelines on the paper by cutting and folding where specified. Refer to images above to see how the finished tract should appear.
DVDs
ARMAGEDDON
The Creator's Calendar
Julian Calendar History
Three Months in a Row (7-Part Series)
Heaven's Holy Days
Christmas: Origin, History, & Traditions
When does a day begin?
Easter | The Pagan Passover
Mark of the Beast
Identifying the First Beast of Revelation 13
USA in Bible Prophecy - Second Beast of Revelation 13
Prophecy of the Century - Next and Last Pope (Part 1)
Prophecy of the Century - Next and Last Pope (Part 2)
The 7 Trumpets of Revelation (7-Part Series)

It is NOW Time to Leave the Cities!
Left Behind - Myth
Moved by the Spirit - Healed by the Spirit
Moved by the Spirit - Slain in the Spirit
Moved by the Spirit - Speaking in Tongues
Angels & Demons - Illuminated
Da Vinci Code - Decoded (Part 1)
Da Vinci Code - Decoded (Part 2)
True Passion of the Christ
The Law and Christians
Death - Its Mysteries Unraveled
What You Must Know About "Hell"
What is a Home Church?
A Place Called Heaven
Your Health
His Name is Wonderful (4-Part Series)
...and More!
---
Retail Value and International S&H: $15
WLC points: 100
Shipping & handling: 0 points