JOIN TODAY!
Meet new people from all over the world, make friends, change your status, upload photos, earn points, & so much more! Chat, post comments or questions on our forum, or send private emails to your friends! There is so much to do and Learn here at World's Last Chance! Join our growing Christian Community Today and receive your Free Gift!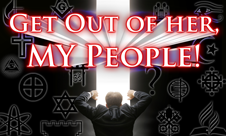 eCourses Completion Status
The Gospel – From Sin to Salvation
The entire message of the Bible is beautifully summed up in just two verses:
For Yahuwah so loved the world that He gave His only begotten Son, that whoever believes in Him should not perish but have everlasting life. For Yahuwah did not send His Son into the world to condemn the world, but that the world through Him might be saved. (See John 3:16-17.)
Yahuwah created a wonderful world. After making this perfect world and filling it with every good thing, the crowing act of Creation was the making of two individuals in the Creator's own image.
"And Elohim created the man in His image, in the image of Elohim He created him – male and female He created them." (The Scriptures, Genesis 1:27)
Formed in the image of the Creator! One with the divine mind. Pure and perfect in every detail – this was the divine plan and the origin of the human race.
Then it was destroyed. Satan, the "adversary" of Yah and man, tempted our first parents to break the divine Law. When they listened to the tempter and turned their allegiance from their Creator to His enemy, a tragic transformation occurred.
Their thoughts and feelings, formed in the divine image, became enslaved to their new master, Satan. The thoughts and feelings of the human race would, ever after, reflect the evil image of Satan.
It was an emergency on an unprecedented scale. Scripture is clear:
"Whosoever commits sin transgresses also the law; for sin is the transgression of the law." (1 John 3:4)
The punishment for breaking the divine Law is, and always has been, death.
For the wages of sin is death, but the gift of Yahuwah is eternal life in the Anointed, Yahushua our Master. (See Romans 6:23.)
It was to save mankind from the consequences of his sin, that Yahuwah and His Son, Yahushua, joined in a holy covenant to save mankind at any cost to Themselves.
The beauty of the Father's heart of love is that while He hates sin, He loves the sinner.
'For I have no pleasure in the death of one who dies,' says Sovereign Yahuwah. 'Therefore turn and live!' (See Ezekiel 18:32.)
The divine Law cannot be changed. "The law is holy, and the commandment holy and just and good." (Romans 7:12) Yahuwah's just and holy Law is a reflection of His own character. To change it would be to imply that Yahuwah Himself is not perfect.
Thus, the divine Law could not be changed, even to save sinners. Satan knew this. He was counting on it. The death of Adam and Eve, as punishment for their sin, would plant doubts in the minds of the unfallen angels and give Satan an opening to accuse our Creator of being harsh and cruel.
But the Father was prepared to meet the crisis. From time immemorial, He held in reserve a solution. It was a secret, held in silence through the millennia in case the need should ever arise.
This solution was a complete shock to Satan. He was totally unprepared for the divine answer given to meet the satanic emergency.
Satan was unprepared for GRACE.
Grace is "the free unmerited love and favor of [Elohim], the spring and source of all the benefits men receive from Him. . . . [It is] the application of [Yahushua's] righteousness to the sinner." (Noah Webster, American Dictionary of the English Language, 1828)
The universe had never witnessed grace before. In a perfect, holy environment, it had never been needed! Grace is the unmerited, undeserved favor of Yahuwah, showered upon guilty sinners.
Praise be to Yahuwah, "Where sin abounded, grace did much more abound." (Romans 5:20)
As soon as there was sin, there was a Saviour. The divine solution to the crisis was that Yahuwah's own Son would step in as the Substitute. Yahushua would die in man's place so that man, forgiven and restored to divine favor, could inherit eternal life.
Yahushua, the Sun of Righteousness, came to bring light to sin-darkened minds, to reveal to all the beauty of the divine character, written in the Law of Yahuwah.
"The people which sat in darkness saw great light; and to them which sat in the region and shadow of death, light is sprung up." (Matthew 4:16, KJV)
While the divine Law could not be changed, infinite Love made provision within the Law to save sinners without changing the Law . . . but at immense personal sacrifice to the Creator.
When asked, Yahushua summed up the Law by stating:
"Thou shalt love Yahuwah thy Eloah with all thy heart, and with all thy soul, and with all thy mind. This is the first and great commandment." (Matthew 22:37-38)
Then the Saviour added the reason why He had been willing to die for sinners:
"And the second is like it, Thou shalt love thy neighbor as thyself. On these two commandments hang all the law and the prophets." (Matthew 22:39-40)
When Yahushua willingly laid down His life to redeem the guilty, both the Father and Son were loving us, even in our fallen, sinful condition, more than Themselves. This is grace, hidden in the divine Law.
"But Yahuwah demonstrates His own love toward us, in that while we were still sinners, Yahushua died for us." (Romans 5:8)
Yahushua is man's substitute in death as well as in life. He lived a life of perfect obedience to the divine Law. At the end, He laid down His life and the sins of the human race were laid upon Him.
He is despised and rejected of men; a Man of sorrows, and acquainted with grief: . . . He was wounded for our transgressions, He was bruised for our iniquities: the chastisement of our peace was upon Him; and with His stripes we are healed.
All we like sheep have gone astray; we have turned every one to his own way; and Yahuwah hath laid on Him the iniquity of us all.
. . . by His knowledge shall My righteous Servant justify many; for He shall bear their iniquities. . . . He was numbered with the transgressors; and He bore the sins of many, and made intercession for the transgressors. (See Isaiah 53: 3-6, 11-12.)
Every sin, ever committed by everyone who has ever lived or will live, was laid upon Yahushua. He felt the accumulated guilt of the ages. It was this sense of guilt, the emotional pain of separation from His Father, that so quickly crushed out Yahushua's life when he was crucified on Calvary.
The wonderful news is that Yahushua did not stay in the grave! Although He died as our substitute for our sins, He Himself was sinless. Therefore, by the Law, Yahuwah had the right to raise His Son back to life!
"Therefore He is also able to save to the uttermost those who come to Yahuwah through Him, since He always lives to make intercession for them. For such a High Priest was fitting for us, Who is holy, harmless, undefiled, separate from sinners, and has become higher than the heavens." (Hebrews 7:25-26)
By virtue of the laws of heredity, every son and daughter of Adam and Eve was doomed to sin and suffer the wages of sin: death.
However, because of Yahushua's death, we have all been granted a second chance: We can choose for ourselves whether we will be loyal to our loving Creator, or continue in rebellion with the arch-enemy, Satan.
The purpose of the entire plan of Salvation encompasses much more than paying the ransom price to redeem sinners from the power of Satan. It includes the RESTORATION of sinners back into the image of Yahuwah.
As one faithful believer so eloquently stated:
To be redeemed, but still be a slave to the fallen nature is not true salvation. To be saved entirely, we must be recreated a new creature. This is done ONLY by faith in the Redeemer Yahuwah and His righteousness.
And you He made alive, who were dead in trespasses and sins, . . . But Yahuwah, who is rich in mercy, because of His great love with which He loved us, even when we were dead in trespasses, made us alive together with Yahushua . . . For by grace you have been saved through faith, and that not of yourselves; it is the gift of Yahuwah, not of works, lest anyone should boast. For we are His workmanship, created in the Anointed Yahushua for good works, which Yahuwah prepared beforehand that we should walk in them. (See Ephesians 2:1-10.)
By the death of Yahushua, He becomes the Re-Creator. A wonderful transformation takes place.
When we surrender entirely to Yahushua, He will live out His life in and through us.
For the love of Yahushua constrains us, because . . . He died for all, that those who live should live no longer for themselves, but for Him who died for them and rose again.
Therefore, if anyone is in Yahushua, he is a new creation; old things have passed away; behold, all things have become new. Now all things are of Yahuwah, who has reconciled us to Himself through Yahushua the Anointed, . . . that Yahuwah was in Yahushua reconciling the world to Himself, not imputing their trespasses to them, and has committed to us the word of reconciliation.
For He made Him who knew no sin to be sin for us, that we might become the righteousness of Yahuwah in Him. (See 2 Corinthians 5:14-19, 21)
True Biblical Christianity is set apart from every religion on Earth because salvation comes through personal surrender, not personal achievement.
As repentant children of Yahuwah:
By faith, we accept the death of Yahushua on our behalf.
By faith, we then accept the righteousness of Yahushua to cover our defects and failings.
By faith, we become new people, restored to the image of Yahuwah.
Through the law, I died to the law that I might live to Yahuwah. I am crucified with Yahushua, therefore "I" no longer live. Yahushua my Redeemer now lives in me, and the life I now live in the flesh, I live by faith in the Son of Yah, who loved me and gave Himself for me. (See Galatians 2:19-20.)
The divine Law is too holy, too pure, for any to attain by their own efforts. Such a transformation is a divine gift, given to those who accept it by faith.
There is, therefore, now no condemnation to those who are in Yahushua the Redeemer, who do not walk according to the flesh, but according to the Spirit. For the law of the Spirit of life in Yahushua has made me free from the law of sin and death. For what the law could not do in that it was weak through the flesh, Yahuwah did by sending His own Son in the likeness of sinful flesh, on account of sin: He condemned sin in the flesh, that the righteous requirement of the law might be fulfilled in us who do not walk according to the flesh but according to the Spirit. (See Romans 8:1-4.)
[Note carefully in the above passage – we are freed from the LAW of SIN AND DEATH which is [the soul that sinneth, it shall die. Ezekiel 18:4, 20 & For the wages of sin is death. Romans 6:23] This in no way removes the obligation to keep the 10 commandments and the whole Torah / law of Moses which reflects the pure character of Yahuwah and all His righteous requirements]
Yahuwah sent His Son to save you. Therefore, be "confident of this very thing, that He which has begun a good work in you will perform it until the day of Yahushua." (Philippians 1:6)
Time is short and Yahushua will return soon to set up Yahuwah's Kingdom on earth. He is waiting for you to repent so that he can make you one of its citizens.
From that time Yahushua began to preach, and to say, Repent: for the kingdom of heaven is at hand. Matthew 4:17
And saying, The time is fulfilled, and the kingdom of Yahuwah is at hand: repent ye, and believe the gospel. Mark 1:15
Now, while the invitation is still open, choose for yourself to surrender everything to your Creator and Redeemer Yahuwah. He will receive you as His son, His daughter and remake you in His own image, fit for His coming Kingdom on earth.
"Today, if you will hear His voice, Do not harden your hearts..." (Hebrews 3:7-8, NKJV)
"Behold, I stand at the door and knock. If anyone hears My voice and opens the door, I will come in to him and dine with him, and he with Me." (Revelation 3:20, NKJV)
We implore you, dearly beloved, surrender all to Yahuwah. Return the love that has been so freely lavished upon you. Commit yourself to His care. There is no greater joy, and no greater peace!
"And this is the promise that He has promised us--eternal life." (1 John 2:25, NKJV)
The choice is yours...
WLC Source: https://www.worldslastchance.com/biblical-christian-beliefs/gospel-sin-to-salvation.html