George Müller was a man who understood faith. He once said, "I have joyfully dedicated my whole life to the object of exemplifying how much may be accomplished by prayer and faith." Yahuwah laid it on his heart to build orphanages to care for the destitute children living on the streets of Bristol, England. With just two schillings (50 cents) in his pocket, George Müller determined to obey. He did not know where the money was going to come from, but that was not his problem. He knew Yahuwah's will. It was Yahuwah's part to provide the way. His part was to obey.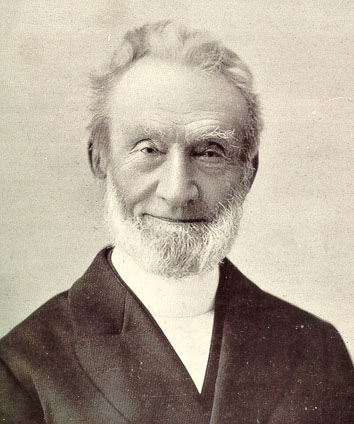 George Müller (1805-1898), a true Faith Warrior, believed that having Yah's promise was as real as having the thing needed in hand, whether that was food in the cupboard or money in his wallet.
Müller trusted everything to his divine Elohim. He made it a practice early on to never tell anyone of his needs – and he had a great many. He only told his Heavenly Father. Through this humble man of faith, Yahuwah raised up five immense, granite buildings, capable of housing 2,000 orphans.
One day, Müller was out of money with no food for the children's next meal. While he was kneeling in prayer, laying his need before his heavenly Father, claiming the promises by faith, someone knocked on the door with a gift of money. Yahuwah had proven yet again that He always keeps his promises. The children ate their next meal on time.
Over the years, the equivalent of millions of dollars were given to him in the support of his great work – all without his ever telling a single soul of his needs, many of which were very urgent. Müller committed his life to revealing the goodness and power of Yahuwah exercised on behalf of all who will take Him at His word and trust in the promises of a covenant-keeping Elohim. He recognized that trials are necessary to anyone who desires to have strong faith.
"To learn strong faith is to endure great trials." Müller observed. "I have learned my faith by standing firm amid severe testings."
It has been said that faith is a plant that will grow quickly if nurtured and Müller's faith proved the truth of this statement. Regardless of the emergency facing him at any given time, Müller chose to trust Yahuwah. He said, "Be assured, if you walk with Him and look to Him, and expect help from Him, He will never fail you." Müller's faith was the result of his experience of choosing to trust regardless of the circumstances. "If the Lord fails me, it will be the first time," he stated.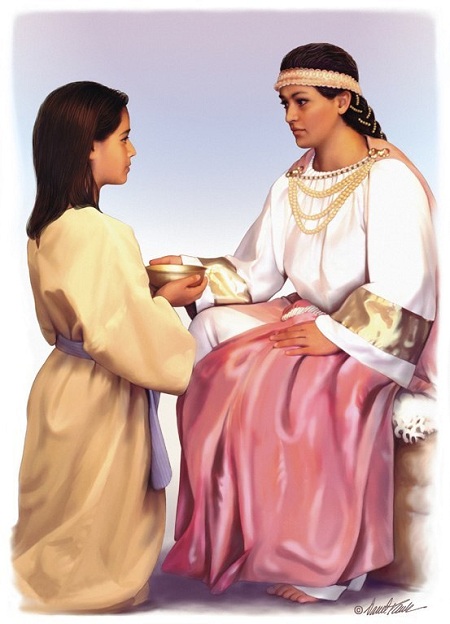 Yahuwah did not prevent a little Israelite girl from being kidnapped and sold into slavery, but He used her testimony to witness to an entire nation through Captain Namaan. (Used by permission of Darrel Tank, darreltank.com.)
Scripture is full of stories, telling of Yahuwah's interaction with His earth-bound children. The primary reason for every story recorded in the Bible is to inspire faith in the hearts of believers. From the miraculous deliverance at the Red Sea to the
story
of the widow whose oil was multiplied so she could pay off her debt, these accounts of Yahuwah's past dealings are intended to inspire faith and trust that He who has worked mightily for His people in past ages, is willing to do the same today if His people will trust in Him.
Every child of Yah has always experienced difficulties. Daniel was taken captive and made a eunuch in the court of Judah's enemies. Joseph was unjustly imprisoned. Job lost his children, his wealth and his reputation. Esther was taken from her family and made the wife of a pagan king who was many years older than she!
Yahuwah does not stop bad things from happening. Hebrews 11, the famous "Faith Hall of Fame" chapter, provides example after example of people who, when faced with insurmountable difficulties and trials, triumphed – not in their own strength, but by resting all upon the promises of Yahuwah. These are the Faith Warriors
Who through faith subdued kingdoms, wrought righteousness, obtained promises, stopped the mouths of lions, quenched the violence of fire, escaped the edge of the sword, out of weakness were made strong, waxed valiant in fight, turned to flight the armies of the aliens. Women received their dead raised to life again: and others were tortured, not accepting deliverance; that they might obtain a better resurrection: and others had trial of cruel mocking and scourging, yea, moreover of bonds and imprisonment: they were stoned, they were sawn asunder, were tempted, were slain with the sword: they wandered about in sheepskins and goatskins; being destitute, afflicted, tormented; (of whom the world was not worthy:) they wandered in deserts, and in mountains, and in dens and caves of the earth. . . . Wherefore seeing we also are compassed about with so great a cloud of witnesses, let us lay aside every weight, and the sin which doth so easily beset us, and let us run with patience the race that is set before us, looking unto [Yahushua] the author and finisher of our faith . . . . (Hebrews 11:33-12:2, KJV1)
The stories of the Bible teach that the greatest need of every individual is faith in the divine promises. The trials and difficulties that arise are Heaven's tutors to teach faith and trust. Yahuwah's power is sufficient to meet every demand upon it. It is large enough to solve every emergency. The only limitation is whether or not the individual will exercise faith because "Everything is possible for the person who has faith." (Mark 9:23, TEV) "But without faith it is impossible to please Him, for he who comes to [Elohim] must believe that He is, and that He is a rewarder of those who diligently seek Him." (Hebrews 11:6, NKJV)
In these final days of earth's history, the stories of the Bible are given to strengthen the faith of believers. Yah's people must stand before the whole world with the unpopular truth of a seventh-day Sabbath calculated by an ancient calendar. All who are faced with the obligation of the fourth commandment quickly realize that if it is important to worship on a specific day, then the calendar used to calculate that day must also be the correct method of time-measurement.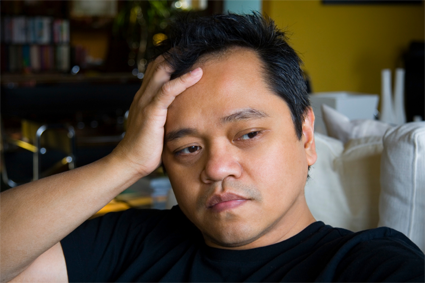 Because the world is united in using a solar calendar that has a continuous weekly cycle, the decision to worship by another calendar immediately presents one with a whole host of previously unforeseen problems. The main fear for most people wanting to worship on the true Bible Sabbath is the possible loss of a job. This, in turn, presents other dangers to those who are in debt: How will I pay off my car? Will I lose my home? What about my student loans? I have so many!
All of these are very real concerns. Many of Yah's people are facing these very issues. The greatest need for someone in this situation is the need for faith – faith that will not be shaken, though the heavens fall. The one thing for which Yahushua repeatedly admonished His followers was their lack of faith: "Why are ye fearful, O ye of little faith?" (Matthew 8:26) "O thou of little faith, wherefore didst thou doubt?" (Matthew 14:31) "Where is your faith?" (Luke 8:25)
On the contrary, wherever He found faith, He immediately commended it. "Daughter, be of good comfort; thy faith hath made thee whole." (Matthew 9:22) "O woman, great is thy faith: be it unto thee even as thou wilt." (Matthew 15:28) "Go thy way; thy faith hath made thee whole." (Mark 10:52) Yahushua wanted to teach that the amount Yahuwah was free to work for a person was directly proportional to the amount of faith exercised by that person.
"Faith" is one of the words often tossed about in religious circles, yet rarely understood for what it is. Faith is not feeling. Often people doubt that their prayers are heard unless they feel flooded with good emotions but this is not faith. It is when you feel fear, not peace; when you feel sorrow, not joy; when you feel weak, not strong; that it is your duty to exercise faith.
Real faith is "belief; the assent [agreement] of the mind to the truth of what is declared by another, resting on his authority and veracity, without other evidence; the judgment that what another states or testifies is the truth."2 Faith is simply taking Yahuwah at His word, choosing to believe that what He has said, He will do because of who He is (all-loving) and what He is (all-powerful), without needing any additional evidence.
One day, a Roman centurion asked Yahushua to heal his servant.
[Yahushua] saith unto him, I will come and heal him.
The centurion answered and said, Lord, I am not worthy that thou shouldest come under my roof: but speak the word only and my servant shall be healed. For I am a man under authority, having soldiers under me: and I say to this man, Go, and he goeth; and to another, Come, and he cometh; and to my servant, Do this, and he doeth it.
When [Yahushua] heard it, he marveled and said to them that followed, Verily I say unto you, I have not found so great faith, no, not in Israel . . .
And [Yahushua] said unto the centurion, Go thy way; and as thou hast believed, so be it done unto thee. (Matthew 8:7-10, 13)
When the centurion asked for Yahushua's help, the Saviour immediately responded: "I will come." The centurion was startled. He had not expected that an Israelite would willingly step foot in his, a gentile, home. He answered quickly, "Oh, no. That is not necessary. Just speak the word only and my servant will get well."
"That," said Yahushua, "is faith."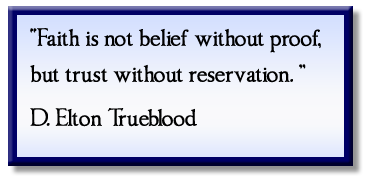 Scripture is the Word of Yahuwah as surely as when He spoke the universe into existence. When you believe that the Word of Yahuwah contains the power to do what it says, and you choose to trust that what He has said, He will do, you are exercising faith. This is what Yahuwah's people need more than anything else when facing the troubles that assail all who would honor their Creator by worshipping on His Sabbath.
Seek ye Yahuwah while He may be found, call ye upon Him while He is near . . . For My thoughts are not your thoughts, neither are your ways My ways, saith Yahuwah.
For as the heavens are higher than the earth, so are My ways higher than your ways, and My thoughts than your thoughts.
For as the rain cometh down, and the snow from heaven, and returneth not thither, but watereth the earth, and maketh it bring forth and bud, that it may give seed to the sower, and bread to the eater:
So shall My word be that goeth forth out of My mouth: it [My Word] shall not return unto Me void, but it [My word] shall accomplish that which I please, and it [My Word] shall prosper in the thing whereto I sent it.
(See Isaiah 55:6, 8-11.)
The beautiful thing is, faith is a gift from Yahuwah! He has given everyone a sufficient measure of faith to believe that if they ask for more, they shall receive more. But, for it to grow,
faith must be tested and tried before it becomes real in your life. "We know that all things work together for good . . ." (Romans 8:28) so that no matter what happens, the transforming power of [Yahuwah's] providence transforms perfect faith into reality. Faith always works in a personal way, because the purpose of [Yahuwah] is to see that perfect faith is made real in His children.3
"And we know that all things work together for good to those who love Yahuwah,
to those who are the called according to His purpose."
(Romans 8:28, Restored Names Scripture)
Yahuwah knows that you need faith. The only way for you to develop rock-solid faith in Yah's ability to care for you individually, is to have problems that are unsolvable by any human efforts. It does not really matter if the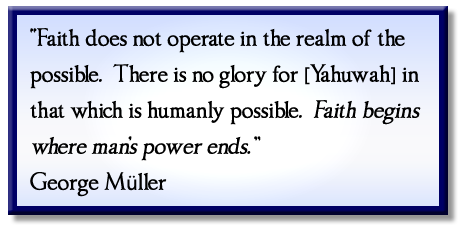 problem is a job that you will lose if you obey the Sabbath, or a mortgage that will cause you to lose your house or car if your job is lost: if the problem were something you could handle, or which someone of your acquaintance could handle for you, it would not build your faith.
Whatever problems confront you as a result of obedience, Yahuwah knows all about it. Each trial is "custom designed" to develop in you the faith and dependence upon your Heavenly Father which you need to get through the trying days ahead. It would be better to lose a fine home and live in a simple apartment or small trailer house in the country, then to withhold obedience to the stated will of Yahuwah. Only those living in strict obedience can claim the promises.
Yahuwah has provided promises to meet every emergency and supply every need. When you have done all that you can in obeying His revealed will, your part is to choose to believe because He is Yahuwah your Eloah and cannot lie. Without humanly insurmountable problems, your faith in His providential leading will not grow. The trials facing you are for the express purpose of providing you an opportunity to exercise your faith so that it will grow! Without testing, faith will not grow any more than muscles cannot grow without exercise.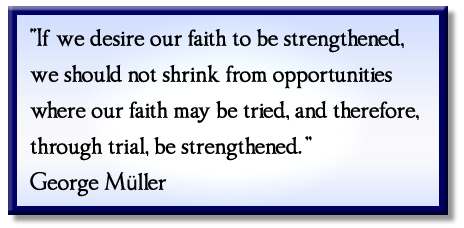 Because each person's situation is unique, there is no advice that can be applied to every individual circumstance. There is a reason why your troubles are beyond your ability or available resources to handle. Yahuwah does not intend for humans to supply the help He wants to provide. Yahuwah does not enable any person or institution, such as WLC, to be able to provide answers and money for every problem that confronts His children. Your problems are designed to help you develop faith in Yah, not dependence upon the wisdom of your friends, or the resources of others.
The trials that confront you may be more frightening than any you have ever faced; the dangers, very real. Through it all, your safest course is obedience and trust. Yahuwah's motives of mercy in every trial are to draw you closer to Him.
For [Yahuwah] will not cast off for ever: But though he cause grief, yet will he have compassion according to the multitude of his mercies. For he doth not afflict willingly nor grieve the children of men. (Lamentations 3:31-33)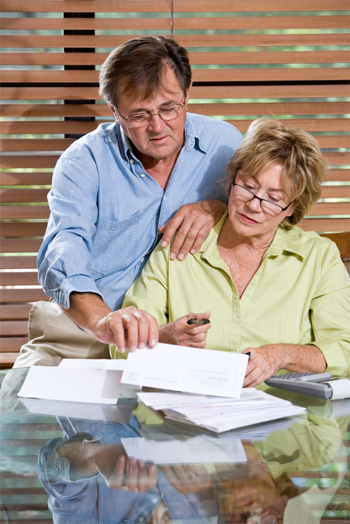 Yah could wipe out your loan. He could create money in your purse. But that would not build faith and faith is your greatest need. Only when a humanly insurmountable problem is solved by divine guidance and intervention, does faith grow.
The most difficult problems are the ones we feel we have brought upon ourselves through an unwise course of action:
We should not have built that big, expensive house.
I should not have taken out that loan.
We should have repaired the old car, not bought a new one.
Why did I take out so many school loans?
When a person has signed papers and PROMISED to repay, there is a sense of obligation that if you do not fulfill your word, you will be dishonoring the Creator. None should lose faith in Yahuwah's loving leading if they do end up losing their jobs and unable to repay loans. "Behold, [Yahuwah's] hand is not shortened, that it cannot save; neither his ear heavy, that it cannot hear." (Isaiah 59:1) We are still to follow and obey, even when we do not understand the reasons for His leading.
The very experiences we find most trying are what is vitally needed to refine our characters. It is also very possible that Yahuwah needs a witness, like Job, who will stay faithful and trusting regardless of the circumstances. It may be for the saving of the souls of others that you are led through valleys of shadows.
Even when we have gotten ourselves into difficulties and entanglements which it was not Yah's will for us to involve ourselves in, we can still come to the Father and pray in the name of the Son that He will give us wisdom to see a pathway that is safe to follow.
Yahuwah has promised wisdom to all who ask of Him.
If any of you lack wisdom, let him ask of [Elohim], that giveth to all men liberally, and upbraideth [scold] not; and it shall be given him. But let him ask in faith, nothing wavering. For he that wavereth is like a wave of the sea driven with the wind and tossed. For let not that man think that he shall receive any thing of [Yahuwah]. A double minded man is unstable in all his ways. (James 1:5-8)
Yahuwah is too wise to answer our prayers just as we would prefer. It is possible that the ordeal of going through bankruptcy, the loss of a job, a home or even one's reputation is the only thing which infinite Wisdom knows will bring a person to total dependence upon Yahuwah. If such is your experience, continue to trust and obey, knowing that Yahuwah is a tender, loving Father.
He will feed his flock like a shepherd;
He will gather the lambs with His arm,
And carry them in His bosom,
And gently lead those who are with young.
(Isaiah 40:11, NKJV)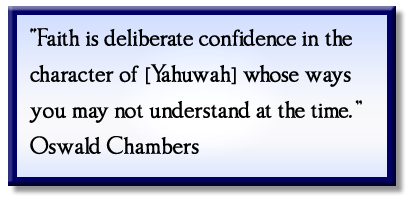 It is safe to trust Yahuwah in every situation, knowing that He will always lead only as we would choose for ourselves if we could see the future as He can, and the glorious plan He is working out in our lives.
The power of the Almighty backs every promise He has ever made. Thus, there is no excuse for refusing to render obedience – even if obedience to truth costs you your job, your house, your car, your reputation, your marriage or even your life.
Are you tempted? He will deliver. Are you weak? He will strengthen. Are you ignorant? He will enlighten. Are you wounded? He will heal. [Yahuwah] "telleth the number of the stars;" and yet "He healeth the broken in heart, and bindeth up their wounds." Psalm 147:4, 3. "Come unto Me," is His invitation. Whatever your anxieties and trials, spread out your case before [Him]. Your spirit will be braced for endurance. The way will be opened for you to disentangle yourself from embarrassment and difficulty. The weaker and more helpless you know yourself to be, the stronger will you become in His strength. The heavier your burdens, the more blessed the rest in casting them upon the Burden Bearer. The rest that [the Saviour] offers depends upon conditions, but these conditions are plainly specified. They are those with which all can comply. He tells us just how His rest is to be found.4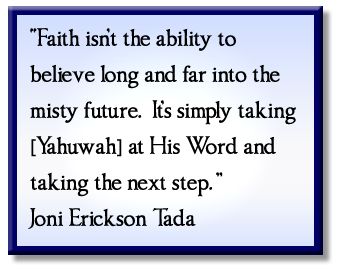 Those who obey Yahuwah in all things have a right to claim every promise Infinite Love has given. Let your only questions be, What is Yahuwah's command? and What is His promise? Knowing these, you will obey the one and trust the other.
• Do not be afraid to ask for a loan renegotiation. Yah may work in that way.
• Do not be too proud to look for a second, part-time job.
• Do not be reluctant to downsize, selling your home and being satisfied with a smaller one that can be paid off or even rented. When real estate is in a market where no one is buying, Yah can send you a buyer.
• When unemployment is high and no jobs are available, Yah can arrange matters to give you a job.
Yahuwah allows individual problems to build individual faith. It must be a problem that is too big for you to handle because that is what drives you to Him to provide an answer. Only as an answer is obtained through faith and prayer, will your faith grow. In every trial and affliction, see an invitation to prayer.
Scripture has provided the key for every problem you are facing in following the path of obedience: "Rejoice always, pray without ceasing, in everything give thanks." (1 Thessalonians 5:16-18) The bitterest trial, if accepted meekly and in faith, will bring with it a calm, peaceful, quiet assurance that Yah sees, hears and is working out all things for your eternal good.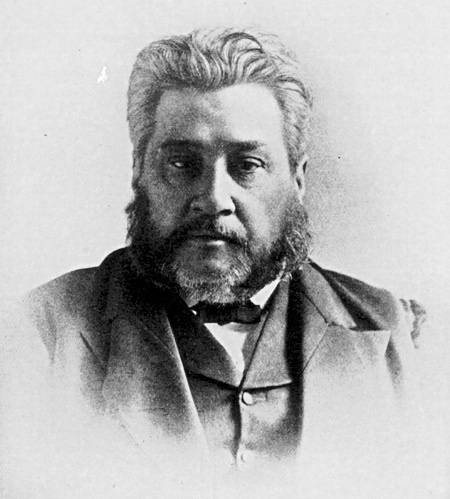 Charles Spurgeon (1834-1892) preached to over 10,000,000 people in his lifetime, urging them to trust the Word of the Almighty.
Charles Spurgeon, an influential minister who valiantly fought against the inroads of liberal theology, wrote:
Men and women have asked a thing of [Yahuwah], and have had it; that have been to the throne, and showed a promise, and said they would not come away without its fulfillment, and have come back from [Yahuwah's] throne conquerors of the Almighty; for prayer moves the arm that moves the world. "Prayer is the sinew of [Yah]," said one, "it moves His arm;" and so it is. Verily, in prayer, with the strength of the faithful heart, there is a beautiful fulfillment of the text, "He will put strength in me." . . . Go on, Christian, for this is thy promise, "He will put strength in me."
"Weak though I am, yet through
His might, I all things can perform."5
No human has the answer for all your questions. WLC does not have the solution to all your troubles. It is your privilege to walk by faith and see how Yahuwah will handle your problems. Prayer is your weapon of defense against all the assaults of the enemy.
[Yahuwah] says, "Call upon Me in the day of trouble." Psalm 50:15. He invites us to present to Him our perplexities and necessities, and our need of divine help. He bids us be instant in prayer. As soon as difficulties arise, we are to offer to Him our sincere, earnest petitions. By our importunate prayers we give evidence of our strong confidence in [Elohim]. The sense of our need leads us to pray earnestly, and our heavenly Father is moved by our supplications.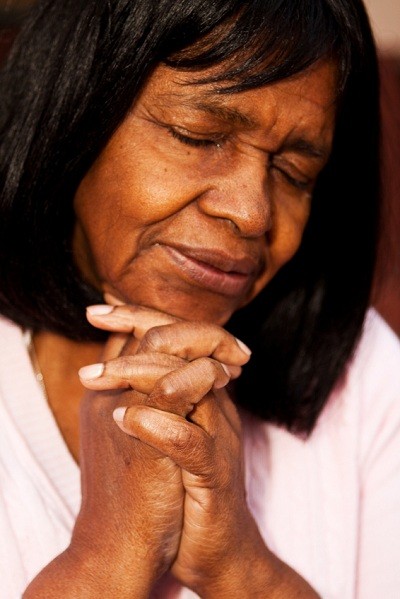 Often those who suffer reproach or persecution for their faith are tempted to think themselves forsaken by [Yahuwah]. In the eyes of men they are in the minority. To all appearance their enemies triumph over them. But let them not violate their conscience. He who has suffered in their behalf, and has borne their sorrows and afflictions, has not forsaken them.
The children of [Yah] are not left alone and defenseless. Prayer moves the arm of Omnipotence. . . .
If we surrender our lives to His service, we can never be placed in a position for which [Yahuwah] has not made provision. Whatever may be our situation, we have a Guide to direct our way; whatever our perplexities, we have a sure Counselor; whatever our sorrow, bereavement, or loneliness, we have a sympathizing Friend. If in our ignorance we make missteps, [Yahushua] does not leave us. His voice, clear and distinct, is heard saying, "I am the Way, the Truth, and the Life." John 14:6. "He shall deliver the needy when he crieth; the poor also, and him that hath no helper." Psalm 72:12.
[Yahuwah] declares that He will be honored by those who draw nigh to Him, who faithfully do His service. "Thou wilt keep him in perfect peace whose mind is stayed on Thee, because he trusteth in Thee." Isaiah 26:3. The arm of Omnipotence is outstretched to lead us onward and still onward. Go forward, the [Saviour] says; I will send you help. It is for My name's glory that you ask, and you shall receive. I will be honored before those who are watching for your failure. They shall see My word triumph gloriously. "All things, whatsoever ye shall ask in prayer, believing, ye shall receive." Matthew 21:22.
Let all who are afflicted or unjustly used, cry to [Yahuwah]. Turn away from those whose hearts are as steel, and make your requests known to your Maker. Never is one repulsed who comes to Him with a contrite heart. Not one sincere prayer is lost. Amid the anthems of the celestial choir, [Yahuwah] hears the cries of the weakest human being. We pour out our heart's desire in our closets, we breathe a prayer as we walk by the way, and our words reach the

throne of the Monarch of the universe. They may be inaudible to any human ear, but they cannot die away into silence, nor can they be lost through the activities of business that are going on. Nothing can drown the soul's desire. It rises above the din of the street, above the confusion of the multitude, to the heavenly courts. It is [Yahuwah] to whom we are speaking, and our prayer is heard.
You who feel the most unworthy, fear not to commit your case to [Yahuwah]. When He gave Himself in [His Son] for the sin of the world, He undertook the case of every soul. "He that spared not His own Son, but delivered Him up for us all, how shall He not with Him also freely give us all things?" Romans 8:32. Will He not fulfill the gracious word given for our encouragement and strength?6
The person who presents the true Sabbath to you will most likely not be the person that disentangles you to make obedience easy. Obedience, by its very nature, must cost something. Yahushua acknowledged this fact when He explained: "If anyone desires to come after Me, let him deny himself, and take up his cross daily, and follow Me." (Luke 9:23, NKJV) The cross that all must carry is the cross of obedience – and it is a cross. The cross is different for every individual – it is designed to be specific to what each person needs for his or her spiritual development.
Yahushua clearly warned that gaining the kingdom of Heaven would require giving up everything else. Not just be willing to give it up, but actually doing so.
Again, the kingdom of heaven is like treasure hidden in a field, which a man found and hid; and for joy over it he goes and sells all that he has and buys that field.
Again, the kingdom of heaven is like a merchant seeking beautiful pearls, who, when he had found one pearl of great price, went and sold all that he had and bought it. (Matthew 13:44-46, NKJV)
Salvation is a free gift, but none who continue in knowing disobedience will obtain it. Because ample provision has been made for all to overcome, all are left without excuse if they are lost. The main reason people do not want to carry the cross of obedience is pride. They like their comfortable home, more than humbler lodging. They like the perceived prestige that goes with a well-paying job. They do not want the embarrassment of job loss or the possible resulting loss of house and car if they default on their payments.
It is easy for Yahuwah to solve the problems facing you. His resources are limitless! However, it is hard for sinners to develop faith in Him. Yahuwah will never force you to exercise faith in His promises. As a lover of liberty, He leaves that choice up to you. "In faith, there is enough light for those who want to believe and enough shadows to blind those who don't."7
Make a deliberate choice to trust your Creator and Redeemer. Eternal life is worth it, even if it costs you everything. Rejoice always, in everything give thanks, seeing in all things an invitation to prayer. There is no mountain too big for Him to move; no distance too far to cross. He will hear your prayers and He will order events that will, in the end, be your greatest blessings.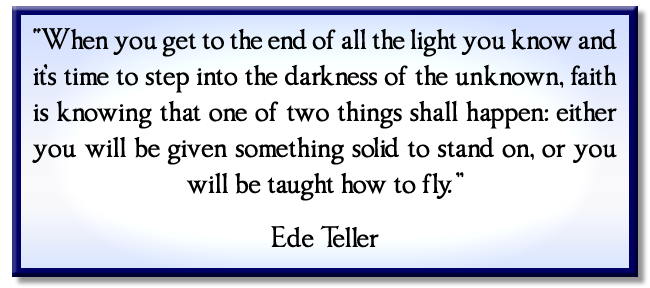 YAH on the Mountain


Faith is the victory!
"For whatever is born of Yahuwah overcomes the world. And this is the victory that has overcome the world, our faith."
(1 John 5:4, Restored Names Scripture)
---
1 All Scripture references given are King James Version unless otherwise noted.
2 "Faith," American Dictionary of the English Language, Noah Webster, ed., 1828.
3 Oswald Chambers, My Utmost for His Highest.
4 E. G. White, Desire of Ages, p. 329.
5 C. H. Spurgeon, "Faith versus Fear."
6 E. G. White, Christ's Object Lessons, pp. 172-174.