Note: WLC now believes that Yahushua did not pre-exist as a person or being, but was begotten by Yahuwah when conceived in Mary's womb. "The WORD/LOGOS of Yahuwah became flesh." Therefore, wherever possible, we refer to his "return" rather than his "Second Coming" as already exists in some of our older content.
In these closing days of earth's history, the real cost of obtaining eternal life is now glaringly apparent. The Saviour Himself revealed the cost when He stated:
"The kingdom of heaven is like a merchant seeking beautiful pearls, who, when he had found one pearl of great price, went and sold all that he had and bought it." (Matthew 13:45-46, NKJV)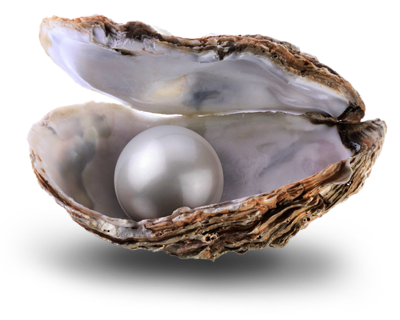 Gaining Heaven will require giving up everything. You will not just be required to just be willing to give up everything – you will have to give up everything if you are to obtain the Kingdom of Heaven which Yahushua will establish on earth at His promised return.
All who accept the true Sabbath will be called to bear the cross of obedience. It is a very real cross because every area of your life is affected.
Job
Educational opportunities
Friendships
Family relations
Church affiliation
Lifestyle
Accepting the true Sabbath will present new challenges. New situations will arise that will call for more than human wisdom. In this, as in every other situation, Yahuwah has provided a solution for every problem.
"Grace and peace be multiplied to you in the knowledge of [Elohim] and of [Yahushua] our Lord, as His divine power has given to us all things that pertain to life and godliness, through the knowledge of Him who called us by glory and virtue, by which have been given to us exceedingly great and precious promises, that through these you may be partakers of the divine nature, having escaped the corruption that is in the world." (2 Peter 1:2-4)
The word of Yahuwah contains the power to do what it says. Therefore, claim His great and precious promises! They are His gift to you. You can safely rest all upon the promises because they are the Word of Yah and they contain the power to do what they say.
All the promises of Scripture are for those who honor their Maker by keeping holy His Sabbath day. If, in your obedience to His command, you find yourself deluged with problems, claim a promise!
The righteous cry, and Yahuwah hears and delivers them out of all their troubles. Many are the afflictions of the righteous: but Yahuwah delivers him out of them all. (See Psalm 34: 17 & 19.)
It takes courage to obey truth that makes you different. People who resist truth can become very hateful and even a threat against those who take a firm stand for truth.
"Plead my cause, O [Yahuwah], with them that strive with me: fight against them that fight against me. Let them be confounded and put to shame that seek after my soul: let them be turned back and brought to confusion that devise my hurt." (Psalm 35:1, 4)
Honoring Yahuwah by worshipping on His holy Sabbath may result in the loss of your job. Yahuwah knows your needs. None who trust in Him will starve.
The steps of a good man are ordered by Yahuwah, and He delights in his way. Though he fall, he shall not be utterly cast down; for Yahuwah upholds him with His hand. I have been young, and now am old; Yet I have not seen the righteous forsaken, Nor his descendants begging bread. (See Psalm 37:24, 25.)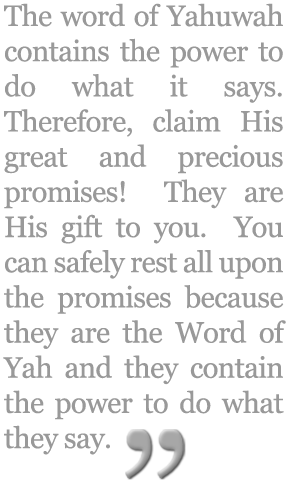 Yahuwah is aware of every particular of your situation.
The eyes of Yahuwah are upon the righteous, and His ears are open unto their cry. (See Psalm 34:15.)
Those who oppose truth may indeed be a threat to you; the dangers you face, very real. Yahuwah has promised His protection.
Fret not thyself because of evil doers, neither be thou envious against the workers of iniquity. For they shall soon be cut down like the grass, and wither as the green herb. Trust in Yahuwah, and do good; so shalt thou dwell in the land, and verily thou shalt be fed. Delight thyself also in Yahuwah; trust also in Him; and He shall bring it to pass. Rest in Yahuwah, and wait patiently for Him: fret not thyself because of him who prospereth in his way, because of the man who bringeth wicked devices to pass. For evildoers shall be cut off: but those that wait upon Yahuwah, they shall inherit the earth. For the arms of the wicked shall be broken: but Yahuwah upholdeth the righteous. (See Psalm 37:1-17.)
Situations will arise where you do not know what to do. Do not fear! Claim a promise!
"If any of you lack wisdom, let him ask of [Yahuwah], that giveth to all men liberally, and upbraideth not; and it shall be given him." (James 1:5, KJV)
"But he who endures to the end shall be saved." (Matthew 24:13, NKJV)
The battle between truth and error, righteousness and rebellion, will only grow more intense the closer we get to his return.
"All who desire to live godly in . . . [Yahushua] will suffer persecution." (2 Timothy 3:12, KJV)
Family relationships are not exempt from exerting pressure upon the believer. Elderly parents will be forsaken; children will be cast out. Marriages have been and will be destroyed as one partner chooses truth and the other rejects it. When this happens, Yahuwah will be your mother, your father and your spouse:
When my father and my mother forsake me, then Yahuwah will take care of me. (See Psalm 27:10.)
"Do not fear, for you will not be ashamed; Neither be disgraced, for you will not be put to shame; For you will forget the shame of your youth, And will not remember the reproach of your widowhood anymore. For your Maker is your husband, . . . [Yahuwah] of hosts is His name; And your Redeemer is the Holy One of Israel; He is called the [Elohim] of the whole earth." (Isaiah 54:4, 5, NKJV)
The Saviour knew that His followers would face increasing persecution to the end of time. One of His last statements the evening before He was crucified provides loving reassurance for all today: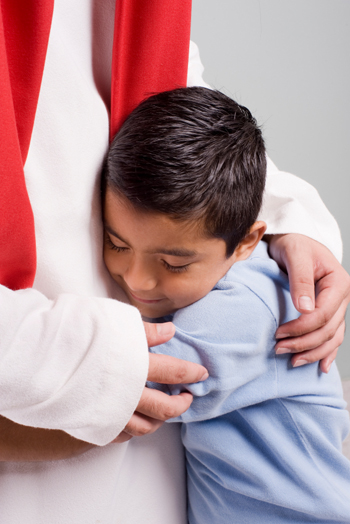 "In the world you will have tribulation; but be of good cheer, I have overcome the world." (John 16:33, NKJV)
Regardless of the situations that arise as you follow truth, Yahuwah has pledged to walk with you every step of the way, bringing you safely through every trial.
"I will instruct you and teach you in the way you should go; I will guide you with My eye." (Psalm 32:8, NKJV)
It is safe to trust in Yahuwah.
Trust in Yahuwah with all your heart, and lean not on your own understanding; in all your ways acknowledge Him, and He shall direct your paths. (See Proverbs 3:5, 6.)
Regardless of what lies ahead, you are safe in the arms of your Saviour. As you step out in faith, determined to obey, Yahuwah will open a pathway that is safe to follow.
Trust Yahuwah. Lay every burden upon Him. There is no trial too heavy for Him to bear; no problem too complex for Him to solve; no loneliness too great for Him to soothe.
Today Yahuwah speaks to you:
"Peace I leave with you, My peace I give to you; not as the world gives do I give to you. Let not your heart be troubled, neither let it be afraid." (John 14:27, NKJV)

"And lo, I am with you always, even to the end of the age." (Matthew 28:20b, NKJV)
---

Related Articles:
See also: Worship and Job Conflicts