The battle for the human soul begins as a battle for the mind. A person's thoughts influence his emotions and the thoughts and feelings combined make up the character. If the thoughts are impure, Satan has already won the battle for the soul even if there are no external sins to be observed. The wisest man who ever lived summed up an important law of psychology when he stated: "As a man thinks in his heart, so is he." (See Proverbs 23:7.)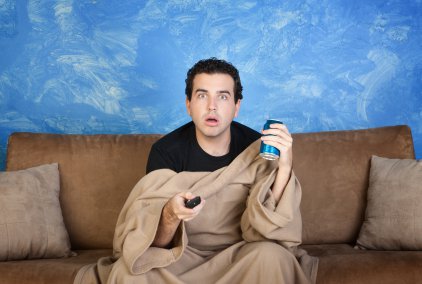 One of Satan's most effective tools in corrupting the soul is found in movies and television. When a person watches a movie, his emotions become involved. If the hero hits or even kills the villain, the emotions of the viewers empathize with the hero and cheer him on in whatever activity he does, whether that is lying, theft, physical assault, murder, fornication or a whole host of other sins. Movies and television series are one of Satan's most effective devices to lure to sin because not only are the actors guilty of what they are promoting by acting it out, but all who participate through watching it become guilty of the same.
An example of this is demonstrated by initial reactions to the movie Top Gun, released in 1986. People allowed to preview the movie before its general release date complained that there was not enough sex in the movie. In response, a sex scene was shot and added to the movie to satisfy viewers' desires to watch fornication.
In movies, the sin stains the soul even though the action is participated in only through watching it acted out. Nor does the effect of watching movies stop when the credits roll. Frequently, those who watch movies continue to think about the story line, imagining themselves in the role of the hero or heroine. In a television series, a person can so identify with the characters portrayed that they actually become addicted to the weekly program. They talk of the actors to their friends; they dwell on the storyline until it consumes their thoughts and emotions. And all the time, Satan is molding them into his own image.
The drama in movies is a most dangerous form of evil. As with all sin, what at first appears evil, after continued exposure, comes to be viewed as normal and ordinary. The mind becomes hardened to sin and wickedness when it is continually exposed to it. What once shocked the senses now appears common place. This creeping compromise paves the way for the mind to accept still more depravity in order to get the same level of enjoyable emotional arousal.
The harmful effects of watching movies (and even television) are felt in many other areas. As far back as 1993, studies in the United States showed that one out of three High School seniors, one out of four tenth-graders, and one of seven eighth-graders got drunk at least once every two weeks. The cause for this high level of underage drinking was found to be the amount alcohol the average youth saw being consumed on television.
The 1982 report of the [United States'] Surgeon General revealed that alcohol is the most consumed beverage on prime time television shows. . . . In 1990, there were 8.1 drinking references or portrayals per hour on prime- time. Of deep concern to the Surgeon General, "The drinkers are not the villains or the bit players; they are good, steady, likable characters," and portrayals are entirely devoid of "indications of possible risks." . . .
New Zealand researchers . . . discovered a direct correlation between frequency of television viewing among 13 to 15 year olds and quantity of alcohol consumed at age 18. The more TV young teens watched, the more alcohol they drank three to five years later. (Lawrence Kelemen, The Dangers of TV.)
A long-term study showed a dramatic increase in homicides (a jump of 92-93% in several countries) with the arrival of television in those countries. Furthermore, watching television and movies actually lessens the IQ – even of those who watch a comparatively small amount.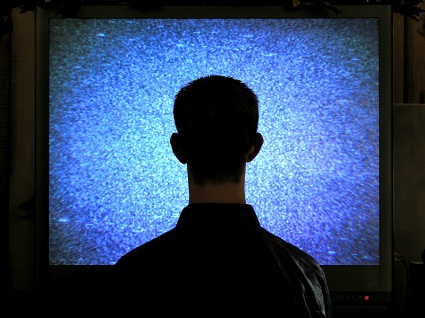 A California survey indicates that the more a student watches television, the worse he does in school. Wilson Riles, California schools superintendent, said . . . that no matter how much homework the students did, how intelligent they were, or how much money their parents earned, the relationship between television and test scores was practically identical. Based on the survey, Mr. Riles concluded that, for educational purposes, television "is not an asset and it ought to be turned off." (Lawrence Kelemen, The Dangers of TV.)
Drama has a long history of licentiousness and immorality. Western theater has its origins in Athens, Greece, where it evolved from pagan religious rites that date back to at least 1200 BC. During the Middle Ages and even through the nineteenth century, actors and actresses were widely viewed as immoral people and no decent person would associate with them.
With the advent of movies, watching dramas became much more widely available to the common person, but its origins remain rooted in immorality. Early movies were shown in saloons and prostitution houses. Although cinemas have since been built for the purpose of showing the latest blockbuster out of Hollywood or Bollywood, movies remain, as drama always has been, an effective tool of the devil for entrancing the imagination and leading the mind into sin. People who would never attend a theater will bring the same movies by video and television into their own homes.
Scripture presents the righteous of Yahuwah as being "stars":
And many of them that sleep in the dust of the earth shall awake, some to everlasting life, and some to shame and everlasting contempt. And they that be wise shall shine as the brightness of the firmament; and they that turn many to righteousness as the stars for ever and ever. (Daniel 12:2, 3, KJV)
Hollywood and Bollywood "stars" are Satan's counterfeit of Yahuwah's stars. Multitudes are led into sin by idolizing their favorite "stars" and copying their depraved lifestyles. Movies and movie stars, like anything that consumes the thoughts and draws the affections away from Yahuwah, are a species of idolatry that should be shunned by all who are seeking to live holy lives in Yahushua.
Movies and movie stars, like anything that consumes the thoughts and draws the affections away from Yahuwah, are a species of idolatry that should be shunned by all who are seeking to live holy lives in Yahushua.
Movies and videos, in and of themselves, are not inherently sinful. As with books or any other form of media, movies can be used to educate and to communicate information for the glory of Yahuwah. The difficulty arises when a movie, however "innocent" it may appear, feeds the appetite for escape. The desire to escape from reality is a temptation that confronts every person on earth, in every walk of life. While some escape through drugs, drink or illicit sex, multitudes more seek escape through focusing their minds on alternate realities. This can be done through books and computer games, but the most popular way is through movies.
Life is hard. It is getting harder and will continue to get more and more difficult until the very end. However, Yahuwah is the only answer that will bring relief for the tempest-tossed soul.
[Yahuwah] also will be a refuge for the oppressed, a refuge in times of trouble. And they that know thy name will put their trust in thee: for thou, [Yahuwah], hast not forsaken them that seek thee. (Psalm 9:9, 10, KJV)
Escape through movies lasts only as long as the movie lasts. The stress of life descends as soon as the movie is over and reality intrudes. Hiding from reality through movies or any other form of escape does not change reality. Only by turning to Yahuwah can a person change his or her reality by turning to the Redeemer for strength and help.
His promise to you is:
Fear thou not; for I am with thee: be not dismayed; for I am thy [Elohim]: I will strengthen thee; yea, I will help thee; yea, I will uphold thee with the right hand of my righteousness. (Isaiah 41:10, KJV)
There hath no temptation taken you but such as is common to man: but [Eloah] is faithful, who will not suffer you to be tempted above that ye are able; but will with the temptation also make a way to escape, that ye may be able to bear it. Wherefore, my dearly beloved, flee from idolatry. (1 Corinthians 10:13, 14, KJV)
Those who put their faith in Yahuwah, resting in His love and trusting in Him to take care of them, will find that they do not need the temporary "ease" from stress Satan offers through escapism.
The everlasting [Elohim], Yahuwah, the Creator of the ends of the earth, . . . giveth power to the faint; and to them that have no might He increaseth strength. Even the youths shall faint and be weary, and the young men shall utterly fall: but they that wait upon [Yahuwah] shall renew their strength; they shall mount up with wings as eagles; they shall run, and not be weary; and they shall walk, and not faint. (Isaiah 40:28-31, KJV)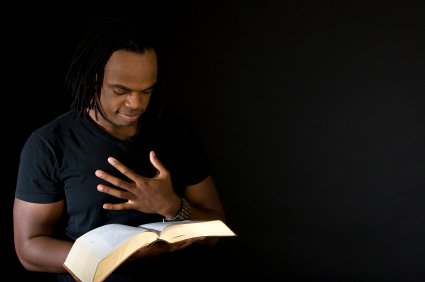 These blessings are for those who surrender their wills, their likes and their desires to Yahuwah and seek to bring their lives, their very thoughts and feelings into conformity to His revealed will. Scripture admonishes all to "Be ye therefore perfect, even as your Father which is in heaven is perfect." (Matthew 5:48, KJV) The reward offered is far beyond anything this world has to offer: "Blessed are the pure in heart: for they shall see [Yahuwah]." (Matthew 5:8, KJV)
Those who would spend eternity in a pure environment, in the company of holy angels and a holy Elohim, will do everything in their power to bring their thoughts into agreement with Yahuwah. Scripture sets forth the high standard to which all should aspire:
Finally, brethren, whatsoever things are true, whatsoever things are honest, whatsoever things are just, whatsoever things are pure, whatsoever things are lovely, whatsoever things are of good report; if there be any virtue, and if there be any praise, think on these things. (Philippians 4:8, KJV)
This is the test to which all movies should be submitted. It is true that there are some movies that are true. But if the story glorifies violence, is it something that should be watched?
Philippians 2:5 encourages all to "Let this mind be in you which was also in Yahushua." In answer to earnest prayer, the Saviour will give victory to all who choose Yahuwah over escape and the allurements the world has to offer.
Do not love the world or the things in the world. If anyone loves the world, the love of the Father is not in him.
For all that is in the world – the lust of the flesh, the lust of the eyes, and the pride of life – is not of the Father but is of the world.
And the world is passing away, and the lust of it; but he who does the will of [Elohim] abides forever. (1 John 2:15-17, NKJV)